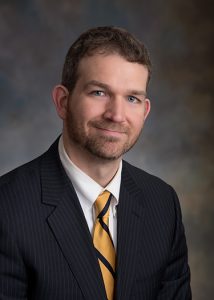 Matthew R. Williams practices primarily in the areas of criminal law and tax controversy before trial and appellate courts alike, at the Municipal, State, and Federal level.  His practice is based out of Topeka, Kansas but he travels anywhere a zealous defense is needed. Learning under legendary trial counsel William K. Rork he has aggressively defended the Accused at trial ranging from 1st degree murder to DUI, Jessica's law cases to civil forfeiture, Drug distribution to Drug tax settlements.
Matthew took the long road to practicing law.  Enlisting as an infantryman in July 2001 less than two years later he found himself in Iraq as a paratrooper with the 82nd Airborne Division.  After transitioning into the Kansas Army National Guard he was mobilized to New Orleans in the aftermath of Hurricane Katrina in 2005 and deployed to Kosovo in 2007.  After graduating from Washburn University in 2010 he attended the accelerated course of Officer Candidate School (OCS) at Ft. Meade, South Dakota. After completing OCS in August, 2010 Matthew immediately began law school at Washburn University School of Law. After graduating law school Matthew was admitted to the bar in Kansas in 2013.   Prior to attending Officer Candidate School he attained the rank of Staff Sergeant.  He is currently a Captain in the Kansas Army National Guard
Matthew's education includes, B.A. Political Science, Washburn University- 2010, Juris Doctor, Washburn University School of Law- 2013, LL.M.-Taxation, University of Missouri-Kansas City- 2014. His military education includes Officer Candidate School (Accelerated Course- National Guard) – 2010, Quartermaster Officer Basic Course- 2012, Judge Advocate General Office Basic Course- 2016.  Matthew is admitted to the bar of The Supreme Court of Kansas,  The Federal District of Kansas, The United States Tax Court, and before the Supreme Court of the United States. He is a certified member of the Judge Advocate General (JAG) Corp (Army).
Matthew is a member of the National Association of Criminal Defense Lawyers (NACDL), the Kansas Association of Criminal Defense Lawyers (KACDL), Kansas Third Judicial District Criminal Bar, the American Bar Association, the Kansas Bar Association, the Topeka Bar Association, and the Sam A. Crow American Inn of Courts.